2021 RAM 1500 TRX
THE REIGN BEGINS
THE HEART OF A LEGEND, TRANSPLANTED
The 2021 Ram 1500 TRX has arrived, replacing all preconceived notions of what a pickup truck can be. The TRX is the most powerful street-legal half-ton pickup ever produced*
But why on earth would you only drive it on the street?
FIRE UP THE ENGINE Your browser does not support the audio tag.
LEGENDARY ENGINE BLOCK
A robust cast-iron block restrains a forged-steel crankshaft with induction-hardened bearings, all engineered to withstand 1,595 psi—the equivalent of 20,000 pounds of force.
GET ON THE INSIDE TRACK
Don't blink. The 2021 Ram 1500 TRX charges forward. Add your name to the list and be among the first to experience it.
THE POWER HAS SHIFTED
2021 RAM 1500 TRX FEATURES: INSPIRED BY THE COMPETITION'S NIGHTMARES
EXCLUSIVE TREAD
35-inch Goodyear Wrangler Territory All Terrain tires are specifically developed for the Ram 1500 TRX and its extreme off-road capability. With traction-focused tread and beadlock-capable sidewalls, they're sure to leave an impression on more than just the road.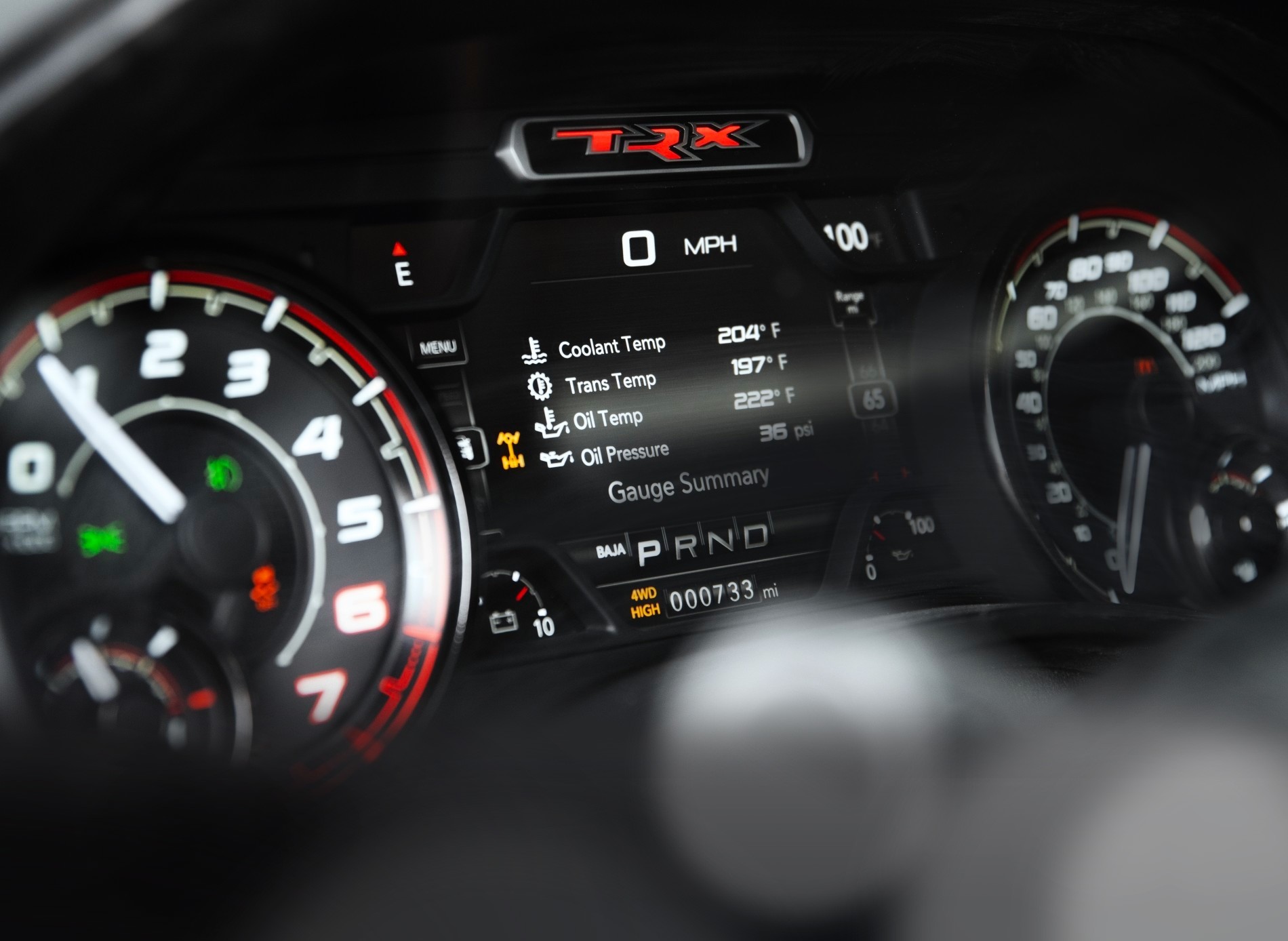 PERFORMANCE PAGES
A suite of customizable performance and off-road pages, designed to help tailor vehicle performance to your exact driving needs, are integrated within the massive 12-inch touchscreen.
LARGEST AIRBOX IN ITS CLASS*
The high-performance air induction system filters four times as much water, dirt and debris than the previous class leader, all while consuming up to 30,000 litres of air per minute.
BILSTEIN BLACK HAWK E2 SHOCKS
The Class-Exclusive Bilstein® Black Hawk® e2 Shocks continuously adjust to changing terrain with supernatural speeds—even recognizing when the TRX has left the ground to adjust damping while airborne.
HARMAN KARDON SOUND SYSTEM
A 900-watt Harman Kardon® Premium Audio System boasts 19 speakers and features unique materials exclusive to the Ram 1500 TRX.
PERFORMANCE-FOCUSED INTERIOR
Available perforated leather, Alcantara® leather and carbon fibre trim ensure a racetrack feel is always within reach.
The all-new Ram 1500 TRX at Tower Chrysler Dodge Jeep Ram in Calgary
The all-new Ram 1500 TRX was born to cross rough terrain in punishing conditions at intense speeds. It's the brilliant blend of extreme off-road capability and fierce SRT® performance. Simply put, TRX is–by far–the quickest, fastest, and most powerful production truck in the world
2021 Ram 1500 TRX | Powertrain | Behind the Badge
Go Behind the Badge with Vehicle Integration Lead, Dan Stagner, who details how the team combined the proven Supercharged 6.2L HEMI V8 engine with an advanced 4x4 performance control system in the TRX. The result? Accolades like "The Most Powerful Production Off-Road Truck Ever."
2021 Ram 1500 TRX | Exterior Design | Behind the Badge
According to Exterior Design Manager, Michael Gillam, TRX represents the pinnacle for where Ram Trucks has been and a clear indication for where it's heading. Learn how TRX evolved from original 2016 concept to the production model when he takes us Behind the Badge.
2021 Ram 1500 TRX | Engineering | Behind the Badge
Go Behind the Badge with Chief Engineer, Jeff Roselli, for a thorough analysis of the engineering that went into the development of the TRX, including the First-to-Market Bilstein